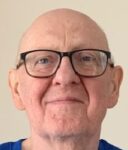 The family of Gerhard Leopold must sadly announce his passing on February 19, 2023, a few months short of his 70th birthday,
following a long and challenging health journey that Gerhard was continuously determined to overcome. Although a lifelong non-smoker, after a 10 year journey of worsening lung disease, Gerhard received a double lung transplant in August 2021. While his new lungs worked well, he had a complicated recovery with multiple infections and surgeries. After contracting COVID 19 at the end of 2022, his lungs deteriorated with several
infections leading eventually to lung failure.
Gerhard had an assortment of interests and hobbies that he was known for by friends and family, especially when he was physically able to pursue them during these last few years. Gerhard had lived in various parts of the world during his life: Austria as a small child, Montreal as an older child and young man, and then, upon completing his studies, Calgary & Edmonton during his career and recent retirement. He enjoyed travels to
various parts of Canada, the U.S., Europe as well as India and Israel more recently.
Gerhard leaves behind his loving wife Eileen and her daughter Leela Rasa, who Gerhard absolutely loved as if his own. Their love for him will only grow stronger with his absence.
Gerhard will also be dearly missed by his mother Emilie Leopold, his brother & sister-in-law Chris Leopold & Cindie Tam, all from Edmonton, Alberta. His father-in-law, John Galiger and Eileen's siblings & their families, Ann O'Reilly, Catherine Brennen, Jeanne Barr, John Galiger, Jim Galiger, and Gerry Galiger, all from the U.S. will also miss him.
Other special relatives that also survive him include his aunt Henriette Bartl of Bowmanville, Ontario, and his aunt Magdalene Schreiner of Burgenland, Austria, as well as his cousins and their families.
Gerhard is predeceased by his father Paul Leopold, his uncle Arnold Bartl, his uncle Alfred Schreiner and his mother-in-law Catherine Galiger.
Eileen extends her heartfelt thanks to the medical teams that worked diligently over the last 2 years to improve his quality of life, in particular the following: The amazing University of Alberta Hospital Lung Transplant Team, and Inpatient Transplant Unit 3G2.
A private gathering for the immediate family will be held shortly. Per Gerhard's wishes, upon his cremation, his ashes will be spread across various parts of the world that were close to his heart.
Donations can be made in Gerhard's name to the following organizations: The University Hospital Foundation Lung Transplant Program or the Alberta Lung Breathing Space.