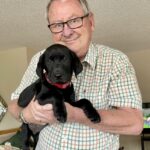 Gordon John Voth passed away suddenly on a very sad day, May 26, 2022 at the age of 81.
He was born on October 5th, 1940 in Grande Prairie, AB, to Henry and Jean Voth. 
Gordon held many important roles, but most importantly he was our husband, dad, grandpa, father-in-law, brother, son, and friend. He will forever be in our hearts and
remembered for being "Gordon"; those that knew him truly understand what that means and smile!
Gordon was a longtime resident of Sherwood Park, AB, were he resided with his family and was an active member of his community. After his retirement as CEO of Northwest Health for 8 years in High Level, Gordon and Dianne returned to Sherwood Park. Retirement did not slow down Gordon and he could be found on the golf course, in his garden, seniors coffee hour at the local Timmies, or going on travel adventures with his best friend, Dianne. 
Gordon became the president of SUN (Seniors United Now) and also was part of many church committees. He enjoyed working with his church community of St Thomas Anglican Church.
 
Gordon's wife, Diane, will miss him dearly, as will his two children, Teresa and Chris, and their spouses Markus and Kathy. The grandkids, Alex and Josie, who spent many hours with their grandpa, are losing a great friend and advisor. Linda (John), Annie (Bob), Ken (Nancy), and Vernon are the brothers and sisters who are losing a person who was
always there and always cared. 
Celebration of Life Service
07 June 2022 at 1:00 pm
St Thomas Anglican Church
4 Raven Drive
Sherwood Park, AB
In lieu of flowers, please make a donation to your charity of choice.
"His absence is like the sky, spread over everything." — C.S. Lewis