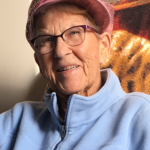 Lorraine Riendeau (nee Larson) passed away in Edmonton, Alberta at the Age of 85 years young on August 12, 2020.
July 9, 1935 – August 12, 2020
Lorraine was born in Saskatchewan and grew up in Dodsland, SK and Jellicoe area on the farm, the second oldest of 6 children. She met her future husband Leonard ( who also had 5 siblings) while playing softball and married the love of her life Len on his 21st birthday. (The best gift Len ever received!) Lorraine and Len started their life together in Outlook, SK and that is where their 3 children were born. Lorraine loved water and the mountains and always wanted to live in Alberta so they moved their family to Grande Prairie and then settled in Edmonton, Alberta.
Lorraine and Len loved to travel, and they lived the past 40 + years as Snowbirds, spending their summers in Kelowna/Edmonton area and winters in Arizona. Lorraine kept very active her entire life , teaching line dancing and aqua-size classes. She always went for a daily walk for both exercise and socialization. Lorraine lived her life to the fullest and spent most of her time dancing and soaking up the sun. She said hello to every person she saw and was known for her signature sparkly hats and roll-on glitter.
Lorraine is survived by her loving husband of 63 years, Leonard Riendeau, as well as her three children: Sherri (Peter), Valerie (Bob), and Arthur (Carol). Lorraine will be fondlyly remembered as an amazing Glitter Grandma by her 8 grandchildren, Sean (Lisa), Pamela (Luke), Priscilla (Ryan), Sheldon (Michelle), Jocelyn (Morgan), Amanda (Derek), Patrick and Marissa (Jamie). As well as a wonderful GG to her 10 great grandchildren. Lorraine was predeceased by her parents, her brother, Gordon, and two of her sisters, Dora and Kay.
Lorraine lived a 'happy happy happy' life (as she would tell everyone). Her body may have gotten old but she was always full of Sunshine and Youth – Forever 29 she would say.
The family says that she is up in Heaven teaching the Angels how to Line Dance!
Due to COVID-19 restrictions, her family will not be holding a celebration of life at this time. In lieu of flowers, donations can be made to the Alzheimer's Association of Alberta.