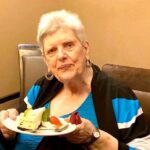 It is with profound sadness that we announce the passing of Hazel Taylor of Edmonton, Alberta on March 17, 2023 at the age of 85.
Born in Sydney, Nova Scotia on January 5, 1938 to Charles and Dorothy Fillmore, Hazel was one of six siblings. Her mother passed away when she was only six years old, so Hazel started at an early age taking care of her siblings which fed into her dreams of becoming a registered nurse, as she always had a calling to help others. Hazel trained to become an RN at Sydney City General Hospital and graduated in 1960 and went on to have a varied and interesting nursing
career including joining the Air Force and being posted across Canada and overseas. Hazel always wanted a family, so she left the Air Force after getting married. She then continued to work in various hospitals across Canada including the University of Alberta Hospital and finally ended her career in extended care looking after seniors at Shepherd's Care in Edmonton.
She is survived by her two children, Karen (John) of Edmonton, and Stuart of Edmonton as well as her sister Janet (Henry) Walsh of Dartmouth, NS and brother Cyril Fillmore of Glace Bay, NS, as well as many nieces, nephews, and cousins. Hazel was predeceased by her siblings Gordon, Irene, and Robert Fillmore.
A memorial service will be held at Mill Woods Presbyterian Church (6607 – 31 Avenue NW, Edmonton) at 11am on Saturday, April 1, 2023.
In lieu of flowers, please consider making a donation in Hazel's name to the Edmonton Food Bank or Community Cats Edmonton.