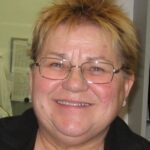 In the early morning hours of Thursday, April 27, 2023 Phyllis Schalin age 76 our Beloved Eldest Sister of 10 Siblings, who was a Daughter, a Mother, Niece, Aunt, Friend, Mentor, Champion, Cheerleader, Confidant and Fearless Trailblazer transitioned from her earthly form into Spirit.
While we make this announcement with great sadness, we celebrate that Phyllis' life which was one of Joy, Generosity, Love and Support for anyone who was fortunate enough to have known her during her lifetime. Even to her last days, Phyllis was a fierce advocate for anyone that needed her and she had a rare gift of lifting the spirits of all those around her.
Phyllis loved nature and animals, particularly her many cats and dogs over the years. Phyllis loved spending time with her large extended family and jumped at any chance for a get together and people loved seeing her as she made everyone feel like they were the most important person in the world. Phyllis was charismatic, brilliant, hard working, witty and so humorous, loved a good joke! She possessed a natural born curiosity that not only took her on many adventures including the exploration of life's many mysteries.
Phyllis is predeceased by her husband Dwayne, Mother Helen, Father John, siblings Betty (husband Lothar), Lawrence and sister-in-law Audrey. She is survived by her daughter, seven siblings, aunts, uncles, cousins and many friends.
We want to recognize the staff members at Queen Alexandra Lodge over the past four years and recently Shepherds Care Millwoods for all their efforts in providing Phyllis care. Additionally, a very special note and thank you for our amazing sister Barbara, who worked tirelessly as a diligent advocate and compassionate caregiver for Phyllis through many challenging events including COVID to ensure that Phyllis' quality of life was exemplary during her final years.
While Phyllis had asked that no formal service be held for her, we would appreciate a smile in remembrance and the lighting of a simple white candle.
We send light out into the universe for our beloved Phyllis as she will always shine brightly and deeply in our hearts. We Love You and Miss You Forever!
"Time does not wait, nor stop or remain" and as Phyllis would always say, "it's a good day!"