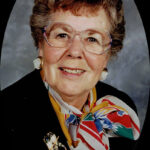 Helga Rose Poltaruk passed away on January 24th, 2022 at the age of 90 years. Born in Montreal moving to Toronto in her teens, met the love of her life, Al, and remained married for 67 years until his passing in 2016.
As a dedicated wife, mother and grandmother, she embraced every moment with the family . She had a vivacious personality and always enjoyed entertaining people, she was never too shy strike up a conversation.
She was a dedicated active member with the Eastern Star from Moose Jaw, Winnipeg to White Rock – an organization which enhanced her desire to provide charity, and kindness to all.
She is predeceased, by her husband Al (2016) and son Rick (2021) survived by her son Randy (Bonnie), and three grandchildren Alexandria (Kevin), Ryan (Mara) and Shawna as well as great grandchildren Tylo, Nathan, Kyla, Jordan, Jonathan and Cindi. She will be sorely missed.
Our gratitude to the staff of Rutherford Heights for all the support and assistance they provided to her, during her residence.