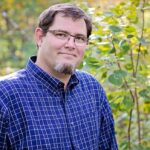 On April 18th, 2022. Ian Foster went home to his saviour and heavenly Father. Ian was born July 23rd, 1972, in Montreal, Quebec. There, Ian received an incredibly memorable childhood brought up by his parents Herbert (deceased) and Laurie Foster, as well as his twin sister Andrea (Mark) Leyden, and brother Paul Foster. He had very fond memories of his early years consisting of summer bike rides, D&D sessions, and a deep love for sci-fi with Star Trek being one of his favourites. Montreal was also where he would meet his wife Debra (divorced.) They knew each other when they were children, and even were in the same Christmas play with Ian playing Joseph and Debra playing Mary. They married June 26th, 1993, and moved to Edmonton Alberta, so that Ian could look into pursuing Seminary School.
Two years after their marriage began. Ian and Debra started a family of their own. Ian's children Daniel (Quincy,) Nathan, and Alyssa. Ian's children remember the times of lightsaber fights, nerf gun battles, snowball fights, and cuddles while watching movies late into the night.
His family would become a strong motivation in his life as he chose to transition into a career where he can better provide for his family. The career would lead him to work for Telus from 2003-2022 in assignment & activation, where he would come to be known by his coworkers as a great listener who they could come to with any issues that they were dealing with.
Ian was a major fan of the Boston Bruins. He also enjoyed darts, chess, and Star Trek Attack Wing. It was clear that he was most alive however, when he was with those that he cared about deeply and speaking into their lives. He was a notable example to friends and family alike, and he will be deeply missed. However, his legacy lives on through his children. As well as his first grandchild Thaddeus, who was born three months prior to Ian's passing.
A celebration of Ian's life will be held on Sunday, June 5th from 3PM to 6PM at 5204 50 Ave, Beaumont, AB T4X 1E3. All who knew Ian are welcome.