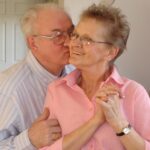 Iris Hrushchak passed away peacefully on March 17, 2022 at the age of 80 years at the Edmonton General Continuing Care Hospice.
Iris was born on January 10, 1942 in Smoky Lake. She is survived by her daughters Bonnie (Mike) and Maxine (Kevin);
grandchildren Rebecca (Ben), Nicholas, Tyler, Austin and Mikaela; and many other
relatives and friends.
Iris was predeceased by her loving husband Harry, and her daughter Shelly Ann.
A Celebration of Life will be held on Saturday April 9, 2022 from 2–4 pm at Kenilworth Community Hall, 7104 87 Ave. In lieu of other tributes, donations may be made to South East Edmonton Seniors Association (SEESA), 9350 82 St, Edmonton T6C 2X8.