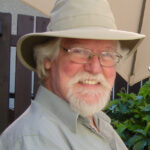 James Edward (Ted) Lewis died at age 82 on September 12, 2022 at the Pilgrims Hospice in Edmonton Alberta.
Ted was born in Montreal on July 12, 1940 and lived there until leaving to attend Acadia University in Nova Scotia. During a
hiatus from University, Ted worked for Sun Life Assurance Company in Montreal until returning to Acadia and graduating with a BSC in 1964.
Ted then went on to graduate studies at Dalhousie University in Halifax. He received his Masters degree in 1967 and a PhD in Mathematics in 1970.
It was in Halifax that he met and married his wife Vivian. He has two daughters Robin (Dennis) and Megan. His two grandsons Eric and Ian were the apples of his eye and brought him great joy.
Following a post doctoral fellowship at the University of British Columbia (1970-1972), Ted joined the staff at the University of Alberta as a sessional employee, eventually
becoming a full time tenured staff member. He retired in 2005 as an Associate Professor and was awarded the title of Professor Emeritus.
Ted's area of research was Functional Analysis and Geometry and while he continued to publish papers, his interest gradually shifted to how math could be taught properly to young students. He had a knack for making math interesting and for convincing students that it was something that could be enjoyed rather than dreaded. He was passionate about showing Education students the fundamentals of how to teach math effectively to children, and was instrumental in the introduction of Math Fairs for elementary school students.
After his retirement in 2005 he remained wholeheartedly involved in the SNAP Math Fair program and the annual SNAP Math Fair Workshop at the Banff BIRS Centre. Because of his passion and dedication the workshop was named the Ted Lewis Snap Math Fair in his honour in 2007.
Ted's retirement also accorded him the freedom to travel. He enjoyed many trips to Europe, and trips to China, the Caribbean and Mexico with his wife, family, and friends.
Ted was a competent amateur artist, magician and banjo player. He had been interested in magic from a very young age and amused his and other children with it for years. He built his first banjo when he was a teenager and used it until he could buy himself a long necked Pete Seeger model Vega which he played for the rest of his life. He managed to
incorporate these interests into his presentations to great effect.
Ted's ashes will be scattered on 23 June, 2023 at Mount Pleasant Cemetery in the
presence of his family. A celebration of his life with be held on 24 June, 2023 from
2 pm – 4 pm at his home for anyone wanting to attend.
For those that wish to do so Ted can be honoured by doing a fun math puzzle with the children in your life, or by a donation to The Roozen Family Pilgrims Hospice in Edmonton.