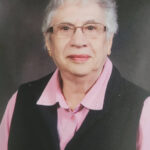 Following a lengthy battle with cancer, Janice Elizabeth Johnson, of Sherwood Park, AB and formerly Regina, SK, passed away on September 13, 2023 at the age of 85 years, surrounded by her family in her home.
Janice was born on July 23, 1938 in Earl Grey, Saskatchewan and spent her childhood on the farm with her dog and her horse. After graduating, she moved to the big city of Regina where she worked for the Saskatchewan Government, when she met her dashing husband, James Frederick Johnson. They were married in Regina July 18, 1964, and had two children, Karla and Glen before moving to Sherwood Park in 1978. Janice was an active volunteer in the community working with friends in the Girl Guides of Canada, Victim Services, Festival Place, Pipefitters Union 488 and many other local events. Her home was adorned with petit point pictures she stitched herself and shows her love of flowers. Jim and Janice both spent many an afternoon or evening at the local bowling alley with friends and she was able to bowl up until the last few months of her life. She is predeceased by her parents Anna (Christoph) and Karl Mischpeter and leaves to cherish her memory her husband, Jim Johnson; two children Karla (Peter) Le Cheminant of Airdrie, Alberta and Glen (Doris) Johnson of Carmacks, Yukon; eight grandchildren, eight great grandchildren; her sister, Barbara Schick, and numerous cousins, nieces and nephews.
Memorial Services will be held on October 14th, 2023 at 1:00 pm, at St. John's Lutheran Church – Ardrossan (52233 Range Road 221. Sherwood Park, AB. T8E 1C9), Pastor Gary Braeuer will be officiating the service. Private family internment will be held at a later date. In lieu of flowers, donations can be made to a charity of your choice.