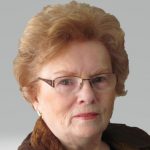 Jean Alice (McNee) Stewart
June 9, 1928 – December 12, 2020
On December 12, 2020, Jean Alice (McNee) Stewart passed away at the Grey Nuns Hospital in Edmonton, Alberta, at the age of 92.
Jean was born in Vegreville, Alberta, on June 9,1928, the second child to Peter Clarke McNee and Stella May (Johnson) McNee. She was the only girl in the family, and had three brothers; Lloyd (Stephanie) McNee, Allen (Pat) McNee, and Donald McNee (Sandy).
At an early age, Jean learned to work hard on the family farm near Vegreville. Among other responsibilities, she had the assignment to clean the house, and cook many large meals for the farm help. The most disliked task was taking care of the chickens, as they often frightened her. Jean shared several stories about her experiences with chickens, and they became the catalyst for many jokes and pranks over the years. She would laugh right along with everyone, and was always a great sport.
After high school graduation in Willingdon, Jean moved to Edmonton to receive secretarial training at the Alberta Business College. Later, while working at Imperial Oil, a handsome young engineer caught her eye. Jean said that when Mr. Stewart called for a stenographer, she would always try to be the first one to his office. Apparently, she caught Lowell's eye too, as they began dating, and were later married on June 5, 1954. A year later their first child, Laurie, was born. Kevin was born in 1959, then Lynda completed the family in 1965.
Jean's creative touch made home a pleasant place to be. She was resourceful, and used her talents and skills to enhance home life. If she couldn't find what she wanted, she would figure out a way to make it herself, and for much less money. She was adept at making drapery, upholstery, sewing the family's clothing, crocheting, and crafts of all sorts
Always a gracious hostess, Jean enjoyed inviting family and friends over for an evening of delicious home-made food, and light-hearted conversation. Many happy memories began around the table. Mom balked at installing an automatic dishwasher until much later in life, as she preferred having her children learn to help in the kitchen, and do the dishes. Her tasty recipes have been handed down, treasured for three generations, and her delicious gingerbread cookies ("man cookies") are still a favorite treat for the grandchildren and great grandchildren.
In addition to Mom's decorating talent, she was also musically inclined, and was often asked to sing at musical events. She could also play the piano, and felt it was important to encourage and facilitate music education for each of her children. Music was always an important part of the family's home life.
Mom often showed love and compassion in thoughtful ways to those around her. As a tribute to her, Jean's name was passed down as a middle name to a daughter, 2 granddaughters, and 2 great granddaughters. She was a member of the Church of Jesus Christ of Latter-Day Saints and was sealed to her husband and family for eternity in the Cardston, Alberta temple. She offered service to her church in many unheralded ways.
Jean was a loving and supportive wife to Lowell. During her last few years, roles reversed, and Dad lovingly cared for Mom as her health steadily declined. It was a beautiful expression of love and support to her. We suspect that Dad probably pulled some heavenly strings after his recent passing 19 days ago, as we knew they could not be apart for long.
We will miss Mom's kind words of advice, her example of integrity and hard work, her loving service to her family and friends, her glowing countenance when family was around, and her tight squeeze around our shoulders with the words, "Love you!" She was a devoted wife to her husband, Lowell; a loving mother to Laurie (Dale) Luke of Idaho Falls, Idaho, Kevin (Ann) Stewart of Sherwood Park, Alberta, and Lynda Stewart of Sherwood Park, Alberta; a special grandma to Renée Stewart of Calgary, Alberta, Alan Stewart of Montreal, Quebec, Laura Stewart of Edmonton, Alberta, Mark (Reylene) Luke of Chandler, Arizona, Spencer (Audrey) Luke of Kaysville, Utah, Patti (Dane) Lemon of Queen Creek, Arizona; and an adored great grandma to 7 great granddaughters and 6 great grandsons.
Jean was preceded in death by her parents, brothers, and recently by her beloved husband, Lowell, of 66 years (deceased on November 23, 2020).
The family wishes to express deep appreciation to all those who have shared their love and concern for the family, and to the hard-working hospital staff at the Grey Nuns Hospital, for their compassionate care during Mom's hospitalization.
Due to the restrictions of COVID-19, there will be no funeral at this time. Memorial services will be determined at a later date for both Jean and Lowell. In lieu of flowers, expressions of sympathy may be made by donations to the Humanitarian Aid Fund – Church of Jesus Christ, an Alzheimer's research or support organization, or another charity of one's choice.