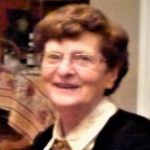 An Angel took our Mother by the hand and told her that a place in Heaven was ready for her.
Jean (Ostafichuk) White was born on August 3, 1931 in Sheho, Saskatchewan. She is predeceased by her husband Ronald Addison White of 53 years. Ron and Jean resided in Yorkton, SK since 1975. Upon Ron's death in 2008, Jean moved to Sherwood Park, AB. She then moved to Lifestyle Options Riverbend in Edmonton during 2018. Jean had suffered from heart issues, diabetes, as well as dementia for the past ten years. As her health began to deteriorate, her last days were spent at Hardisty Nursing Home in Edmonton, AB.
Jean is survived by four of her children: Roland White (recently deceased), Wayne (Jacquie) White, Curtis (Sharla) White, and Janice (Larry) Yausie, and seven grandchildren and two great grandchildren.
Although Mom's health was failing, it was Covid, in the end that took her life. She will be sadly missed. She always took care of her family, loved her Ukrainian heritage, as well as loved to laugh. Rest in peace Mom we will see you again someday.
A cremation has taken place. There will be a Celebration of her Life at a future date in Regina, SK.