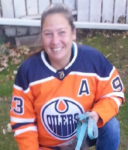 Suddenly, on September 6th, 2022 in Devon, Alberta, Joan Alison Desjarlais at age 52 passed on and left this world. Joan was born in Winnipeg, Manitoba and resided in Devon, Alberta.
She was predeceased by her father – Andre George Desjarlais.
Leaving to cherish her memory are her to beloved sons, Jamie and Justin Desjarlais. Also, to mourn her loss is her Mother-Marie Thelma Rosalie Corneau (Dennis Corneau) and seven siblings: Vernon Delorme, Richard Delorme, Lorraine Kehler (Rudi Kehler), Claudette Hinett, (Dave Hinett), Wanda Hum, Rosalie Wittemann (Richard Field), and Andre Desjarlais. Leaving behind numerous nephews and nieces, to whom she loved, other family members and friends.
Joan's biggest loves in her life were her two precious sons Jamie and Justin to whom she loved and cherished the most with all her heart and soul, there was nothing Joan would not do for them. She loved being a Mom; her boys were everything to her. A very close-knit family, through good times and hard times Joan has always been there for them.
Joan was compassionate and caring, and she shared that with the people around her. Wonderful memories of family get-togethers, going down to the river to fish and BBQ, was one of Joanie's favourite things to do, Joan also enjoyed cooking, her famous meatballs will be missed. Her love of nature was very precious to her, especially her love for wolves and tigers.
Throughout Joan's life, she always loved challenging people to a game of pool or darts. Joan was a sports enthusiast; when it came to hockey – Edmonton Oilers, Nugent-Hopkins being her favourite, Edmonton Eskimos (when they were the Eskimos) she
enjoyed going to the football games with her sister Wanda and Joan also liked the Toronto Blue Jays.
Joan was very out-going, a fun loving person with a sarcastic sense of humour, when in her company she would tell jokes, make people laugh and just have fun with people. She also, would go battle of the wits with anyone; she loved playing board games and just hanging out and going to garage sales. Joanie loved spending quality time with her family and friends. All that knew "Joan," "Joanie" or "Just Joan" her will miss her laughter and her wit. You could not help but be drawn to her magnetic personality and her good heart. She truly was a blessing to all that knew her, and the people that she met on her journey. Sadly, Joan's earthly journey has ended.
Footprints in the Sand
One night a man had a dream.
He dreamed he was walking along the beach with the Lord.
Across the sky flashed scenes from his life.

For each scene, he noticed two sets of footprints in the sand:
one belonging to him, and the other to the Lord.

When the last scene of his life flashed before him,
he looked back at the footprints in the sand.
He noticed that many times along the path of his life
there was only one set of footprints.
He also noticed that it happened at the very lowest
and saddest times in his life.

This really bothered him and he questioned the Lord about it.
"Lord, You said that once I decided to follow you,
You'd walk with me all the way.
But I have noticed that during the most troublesome times in my life,
there is only one set of footprints.
I don't understand why, when I needed you most, you would leave me."

The Lord replied,
"My son, My precious child, I love you and I would
never leave you. During your times of trial and
suffering, when you see only one set of footprints,
it was then that I carried You."
A memorial service for Joan will be held at Devon United Church, 2 St. Clair Street, Devon, AB, on October 12th at 2:00 p.m., with a reception to follow at St. Maria Goretti Parish, 8 St. Clair Street, Devon, AB, at 3:30 p.m.