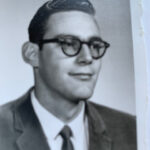 Allan is survived by his wife of 35 yrs. Joanna McDonald and his step children and their spouses Shauna (Jim), Laureen (Maynard), Drew (Carrie), Glenda (Richard) and also by his brother Robert. Other survivors are cousins Helen Andrews, Marion Steele and Loraine Forester. He was predeceased by his father Adrian (1997) and mother Amy (2011).
John (Allan) joined Edmonton Power (now EPCOR) in 1965 after graduating from NAIT's Industrial Electrical Technology program and spent his entire 47 year career with the company. During his working years Allan enjoyed trap shooting at the Edmonton Gun Club and curling with his fellow EPCOR workers. After his retirement in 2012 Allan's health began to decline, most noticeably his eyesight from the lingering effects of Grave's Disease and early signs of dementia which, after Joanna's health also failed, required moving into long term care in December 2020. After Christmas 2021 Allan's health took a serious turn for the worse and he became mostly bedridden from late January of this year until his passing. Much praise and thanks must be extended to the Doctors, Nurses and Staff at Jubilee Lodge Nursing Home for the wonderful, kind and loving care given Allan over these last difficult months.
Allan has been cremated and a service of remembrance is being planned for late spring or early summer, details to be announced when available. In lieu of flowers please donate to a Ukrainian refugee relief effort or other charity of your choice.