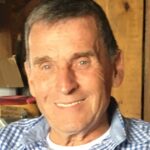 It is with great sadness that we announce the passing of John Charles Heath on Wednesday, September 21st at 78 years of age.
John is survived by his partner Debbie, stepdaughters Natasha Gennaro, Tatiana Schopf (Scott), sister Georgina (Jack) Lee, brother Tom Heath, nephew John Darrell Lee (Heidi), niece Diane (Kelly) Edwards, great niece Jennifer (Luke) Pasquale, great nephews Sean Edwards & Jackson Lee, along with sister-in-law Sherry Gaw & family, & brother-in-law Richard Gaw (Kate). John was predeceased by his parents Alma & Cecil Heath.
John's passion in life has always been with thoroughbred racing as a trainer in earlier years and a successful Jockey's Agent for most of his life. He always had a pocket full of mints for his favourite horses. His other passion was the mountains, anytime he could get away.
A celebration of life will be held at the Edmonton EXPO Centre, 7515 – 118 Ave. NW, on Wednesday, October 19th from 1:00-4:00 p.m. in Ballrooms 105-106.