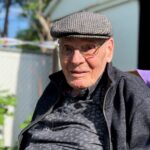 It is with deep affection & sadness the family announces the
passing of Joseph Francois Jean Paul Bray at the age of 98, at his retirement home, Chartwell Wescott, on July 26, 2022. "John Paul" will be lovingly remembered by his wife, Stella; children Gary Bray (Christine), Roxanne Higuchi (Cliff); grandchildren Matthew Bray (Aly), Taylor Bray, Jasen Higuchi (Erin), James Higuchi (Mandy); great-grandchildren (Jasen) Angus, Cadence, and Lena; (James) Riley and J.J.; special niece Debbie Riley (Jim) and brothers Alban (Georgette), Rheal (Paulette) and numerous relatives and friends.
John was born on June 6, 1924, in the small village of Moose Creek, Ontario. He was the oldest of four brothers and three sisters. John started working as a farm hand on
his uncle's farm at a very early age making 50 cents a week. He then worked for a time in the mines in Northern Ontario. After working many jobs in several provinces, better
opportunities in the west beckoned and he took a train west ending up in Campbell River, BC working in a lumber camp. The discovery of oil in Alberta and the resulting oil
industry enticed him and he was Alberta bound. Initially, he drove an 18-wheeler for Pacific Petroleum in Redwater, Alberta.
One evening, John drove the truck, trailer and all to a dance where he met his love, Stella Kassian. He asked her to dance, and their courtship began leading to their 70-year
marriage. Their first home was a small shack in Redwater beside a flare pit. John started with Murray Mitchell & Gray, an oil consulting firm, and in 1952 they moved to Leduc and lived there for 9 years. Gary was born in 1959, and in 1960 they purchased their first home in Drayton Valley where they lived when Roxanne was born in 1963.
John was moving up the ladder and was required more often to work in Edmonton, so
another move was in the works. They purchased a home in the Capilano area. One night while driving around Edmonton, they stumbled upon a triplex for sale which they decided to buy as a rental. John's philosophy was "let other people help us pay our mortgage". John became vice-president of production for Mitchell & Associates and had a successful career with them where he was known as the guy who used his ingenuity and mechanical mind to keep things running smoothly.
John retired at age 65 but didn't stop working. With even more rental property, he spent many hours as a landlord fixing and repairing things, often using that ingenuity that he was well-known for during his career. For many years during retirement, John enjoyed catching a bus to meet his friends for coffee, at favoured locations around Edmonton.
John was known for his stoic demeanour, hearty laugh and smile that could light up a room. Although John wasn't much of a traveller, he and Stella did spend several enjoyable years travelling the continent in their motorhome. With John's declining health, he is now where he wanted to be…until the next time we meet him… on the other side. We loved him deeply and will miss him forever.
By John's request, no service will be held. In lieu of flowers, memorial donations may be made in the name of Jean Paul Bray, to the Heart and Stroke Foundation of Canada, at
1-877-882-2582 or Alzheimer Society Alberta at 1-866-950-5465.
The family wishes to send a special thank you to the management and staff of Chartwell Wescott, Windermere for their great care and compassion in caring for John while a
resident of the Memory Living neighbourhood.