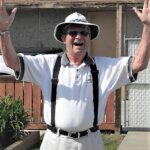 The Read family sadly announces the passing of their patriarch, John Victor (Jack) Read on 8 August 2021 at the age of 91.
Jack is survived by his sons Pat (Margaret) and Dean (Dorothy); by his daughter Donna (Karl); by grandchildren Sandra, Hope, Michael, Carmal, Owen, Kevin, Cheryl and Hannah; and a number of great- and great-great-grandchildren. He was predeceased by wives Ruth (nee Burkitt) and Claire (nee Joubert); by brothers Donald (Jeanne) and Stewart (Victoria); by sister Margaret; and by his son Gerald (Sharon).
A service will be held on August 28, 2021 at 3PM at Trinity United Church, 8810 Meadowlark Rd NW, Edmonton, AB T5R 5W6 (phone 780-489-0860), followed by interment of Jack's ashes in the church's memorial garden. The church's COVID 19 protocols will limit attendance, require masks, and pre-registration. To attend, you MUST register by calling the number above or emailing the church (office@tucedm.ca), and provide your name, number of attendees, identifying if family or friend, and a contact number.
In lieu of flowers, we ask you make a donation in his memory to a charity you support.
A bit more about this fella…
Jack was born on 23 March 1930 on the family homestead near St Walburg, Saskatchewan, and was nicknamed Jack after his brother Stewart's imaginary friend. As a youngster, he worked on the family farms in Saskatchewan and in Salmon Arm, BC.
Jack loved building and fixing things. After a short post-WWII Navy service in Halifax, he settled in Edmonton where he transitioned from typewriter repairman to automotive mechanic (and service station owner) to oilfield service technician. In the 1980s, he started building and repairing oilpatch items, leading to the founding of Panama Enterprises, initially in his home and eventually into larger facilities in West Edmonton. Jack became "Panama Jack", known across the oilpatch for his signature Tilley hat and the outstanding windsocks Panama produced and delivered around the globe.
Jack was a real character, blessed with a gift of the gab, and always a joke or three (many rather risqué and colorful, but always delivered with a naughty wink and a smile). He was a big-hearted true giver and donated both time and money to many charities and people, with a special connection to the congregation at Trinity United Church. He cared about people, and was a true friend to so many.
Jack fostered and nurtured his family and their connections to kin across Western Canada. He was proud of his children and in his own words… "it's amazing to go from horse and buggy to what we have today… [the kids] are all doing great… feels good to see that… in hind sight things worked out pretty good."
Jack will live on in so many memories he created, and in so many lives he touched.