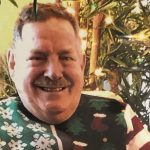 It is with great sadness that the family of John Wayne Trautman announces that on May 25 2020 Jack passed away peacefully in his home in Edmonton, AB. He was born Aug.28th 1945,raised on the Homestead in Duhamel area educated in New Norway.
Jack had the best job! 42 years with Continental/United airlines.His love for his job and his people skills led him to great heights in his career.Because of Jack his parents and siblings travelled the world.Jack is pre-deceased by Donna Shantz his sister and Don and Fannie Trautman his loving parents.He will be dearly missed by his family,Bob and Roxie(Stettler) Garry(Grande Prairie)Susan and Garry(Beaumont)Rick and Connie(New Norway)Randy and Colleen(Bashaw).Also all of his Nieces and Nephews ,
Jack was Papa Georgio to their children.He will be greatly missed by all his cousins,Uncle Stan and all his dear friends.There will be a Celebration of Life at a later time.Donations instead of flowers to a Women's Homeless or Pet Shelter would make Jack Happy!