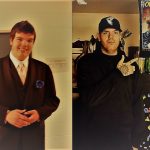 Jordan Turnbull
It is with shock and deep sadness that we, the family of Jordan Turnbull announce the sudden death of our Dear Brother. Jordan passed on October 31st, 2020. He was 27 years old – Far too young to say goodbye to the world – he barely had a chance to live.
He is predeceased by his mother, Yvonne (Shelley) Turnbull. He is survived by his father, Kenneth Turnbull, Brothers, John (Wanda) Turnbull, Jason (Cathy) Turnbull, Kyle (Ashley) Turnbull. His sisters, Holly (Darren) White and Tara (Jason) Williams. He had many Nieces and Nephews that he loved very much.
Jordan was the victim of a violent crime. We hope that justice will prevail, and serve him in death, where it so greatly failed him in life.
For the past 10 years Jordan led a life of addiction. He fought his demons but they had a strong hold on him, he wanted desperately to be clean, sadly he didn't get the chance to succeed.
Jordan's life is not defined by his addiction, he was so much more than that. His real friends and family know the guy who would always answer your calls and texts, no matter how much trouble he was in or wasted he was. He loved and missed his family terribly. He laughed at stories about his nieces and nephews. He joked around and was so funny even on calls from jail. He fully owned his problems and was ashamed of what he had become. He did not deny who he was. He was sorry.
Sadly, he found out our Mom had passed while he was in prison. Resources are very limited there, but he requested a cup of king Cole tea, he knew it was our Mom's favorite. Jordan would get so optimistic in prison, about how he was going to go to rehab when he got out, and jobs he aspired to have, you could hear in his voice that he really meant it. He really wanted it. He just had no idea how to get there and beat his addiction although he tried many times.
Jordan was born December 10th, 1992 in Sydney, Nova Scotia to a troubled Mother. He stayed with her for 18 months when we were blessed with a knock on our door. He was the sweetest little baby in his yellow sleeper with missing feet and carrying his tattered teddy. That teddy meant the world to him. We were so excited to have him. He stayed with us as a foster child for 4 years before we had the opportunity to adopt him. That was the easiest decision in the world! He felt like our brother, we couldn't possibly say goodbye to him.
Jordan was a vibrant child with a huge heart. He would fiercely defend anyone he believed was being bullied, and he loved to make us laugh doing all kinds of impressions and silly songs. As he got older, he discovered a love of music. He could play a mean ukulele and make everyone laugh. He was great on the saxophone in school, and though he had no training, he became a great guitar player. As teenagers, he and his friends would write their own songs, but he rarely shared them with us. Sometimes we would find lyrics jotted down in a notepad, and they were always very deep and poetic – much more than you would expect from a cranky teenager.
People say there are 2 sides to every story, but that's not true. There are a million sides to Jordan's story, and each of them is true and valid, he had so much to offer this world.
Thank You to those who were kind to Jordan in times of need. He will never be forgotten, and his death leaves a void in all of us that can never be filled. His story is unfortunately one of tragedy and sadness.
Donations can be made to the homeless shelter of your choice, and to mental health and addiction services in your area. More than Donations, we want acts of kindness to be committed in his honor. Soften your hearts and see people for more than their problems. Don't post about your kind deeds on social media, don't whisper them in your friends' ear over coffee…. Just go out and be loving people. We need a lot more love in this world.
Jordan, if love could have saved you, you would have lived forever.