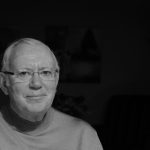 It is with great sadness that we announce the passing of our beloved Joseph. He passed away suddenly at the age of 76, on July 5, 2020.
He had a long courageous battle with Parkinson's Disease and he now is able to rest in peace.
Joe was a kind and gentle soul who was a loving husband and amazing Dad to his three children. Joe loved to read and spent countless hours invested in a good book. He was also an dedicated artist who painted throughout his life. The sound of Joe's laugh will never be forgotten and will be within the hearts of all who shared his life.
Joe will be lovingly remembered by his wife Laverne; daughter Lisa(Gary); son Marc (Amanda); daughter Nicole; and three beautiful grandchildren, Ella, Victor and Oliver.
He will be greatly missed by his siblings, Maurice (Jean) Dauvin, Phil (Carol) Dauvin, Marie (Neil) Tegenkamp, Chuck (Cheryl) Dauvin, Jacqueline (Kelvin) Galambos, Daniel Dauvin, Celine Dauvin, Ernest (Sue) Dauvin, Michael (Michelle) Dauvin, Bernard (Leona) Dauvin, Leonard (Sandra) Dauvin, Roger (Peggy) Dauvin, and many nieces and nephews.
Joe is welcomed into eternal life by his mom Jeanne; father Maurice; brother Raymond; and sister Marguerite.
In keeping with Joe's wishes, a private ceremony will be held to honour his life on July 10th, 2020.
In lieu of flowers please consider a donation to the Glenrose Rehabilitation Hospital Foundation as Joe found meaning there in his early career as a social worker.