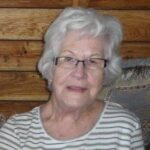 Katherine Koch (nee Biegler) April 29, 1929 – May 9, 2021
"Wherever a Beautiful Soul has been, there is a trail of Beautiful Memories"
It is with great sadness that we announce the passing of our loving wife, mother and grandmother, Katherine (Kay) Koch on May 9, 2021 at the age of 92 years.
Kay is survived by her loving husband of 70 years, Ralph; her sons Brian (Sheila) and Calvin; her daughter Heather (Robert) Panas; her grandchildren Crystal Lang, Christopher (Sara), Dusty (Angel), Trevor (Amanda), Mandy and Michael; her great-grandchildren Daniel, Ben, Sam, Autumn, Sapphire, Caitlyn, Ayla and Flora; her sister and brother-in-law Gladys and Rod Macdonald; sister-in-laws Amy and Doreen; and numerous nieces and nephews. Kay was predeceased by her parents Rose and Anton Biegler; her brothers Frank, Scotty, Bill and Tony; her sisters Rose, Martha, Dorothy and Violet; her brother-in-laws Levi, Henry, Phillip and Albert; her sister-in-law Paranzem; and grandson-in-law Michael Lang.
Kay will be forever missed and fondly remembered by her family that she dedicated her life to and we are grateful for having been a part of this beautiful lady's journey. We are pretty sure that all the Biegler Angels are having a party as Vrrej said he heard that they Re-opened the Brewery in Heaven.
Special thanks to Blaine Brooks for his help and kindness to Ralph and Calvin.