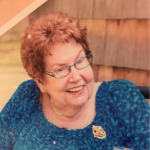 COOMBES, Kay (nee Olson) passed away on Jan. 4, 2023 at the age of 89 yrs. Many cherish their memories of Kay when she would tilt her head back and give a good boisterous laugh.
Kay will be remembered for her exceptional sense of humour that kept you guessing.
She is survived by her children Randy, Janice (Lyle), and Jerry (Shirley), as well as 9 grandchildren and 9 great grandchildren.
Kay was predeceased by her parents Lars & Blanche Olson of Holden; sister Bernice Wick; brother Glen; companion Denzel Solberg; her daughters Lisa (1959), Kathi (2011), Rhonda (2014).
A Celebration of Life will take place at a later date.