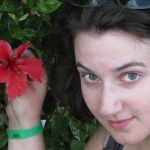 Kelly Brianne FitzGibbon said goodbye to her family and closed her green eyes for the last time on September 2, 2020 at the age of 38. She left this life as she lived it: strong, determined, and surrounded by love. After nearly 3 years of bravely fighting cancer, Kelly took her much deserved rest.
Kelly FitzGibbon was born in Montreal in 1982, and spent most of her life in Sherwood Park and Edmonton. She was always a clever and accomplished student, and graduated from the University of Alberta with honours in 2004. She went on to work at the Alberta Legislature, the AAMDC, and spent several years working in communications with the City of Edmonton. She was married to her husband, Luke Streisel, in 2013 and gave birth to her daughter Nina in 2015. In 2017, while 6 months pregnant, she was diagnosed with cancer and would spend the next few years courageously enduring a barrage of treatments, surgeries and scans. Despite this she gave birth to her second child, Rosetta Mae, in 2018.
Kelly FitzGibbon was a fierce debater who loved a good argument. She had a sharp wit and impressive mind that was always ready for action. She was a painter, a writer, and a roller derby girl. She was a world traveller and collected friends along with her photos and souvenirs. Kelly loved music and wasn't afraid to start a dance party in the living room. She had an incredible connection with books and filled her house with them. She could talk about art, movies, or politics until the teapot grew cold.
Kelly's greatest love was her children and she leaves behind Nina (age 5) and Rosie (age 2) to keep her light shining in the world. They have their mother's loving heart and creative funny soul. She would have done anything for her kids, and fought a horrible disease for years for just one more chance to watch them grow.
Kelly also leaves behind a heartbroken family to remember her love and tell her stories. She spent more than 10 years with her husband Luke Streisel and their love saw them through many impossible times. She was a precocious and gifted child for her parents, dad John FitzGibbon and mom Doreen Gibbs (along with stepdad Ken Gibbs), and a supportive and inspiring big sister to her siblings, Jason FitzGibbon and Sarah Forster. She also leaves behind a hole in the lives of many step siblings, cousins, and other family members.
Kelly will be also missed and fondly remembered by the many people lucky enough to call her a friend. Her closest friends were her other family and she loved them fiercely. She approached everyone she met with an open and giving heart. She was an incredible listener, a shoulder for many to cry on, and giver of sage advice.
There will not be a traditional funeral or memorial at this time at Kelly's request. Instead she has asked, when circumstances allow, her friends and family to gather in celebration of her life. Please feel free to make a donation in Kelly's name to an organization of charity of your choice. Kelly also suggested that everybody take some time with people they love, share a good meal, and raise a glass to her memory.