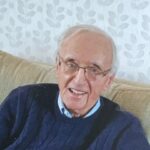 It is with great sadness that we announce the passing of Kenneth Hooper at the age of 83.
Ken was born on 7 September 1939 in St Albans, Hertfordshire, UK. He emigrated to Canada in 1962, settling in Edmonton and working for Edmonton Telephones until retirement in 1996. He re-entered the workforce a few years later as a part time driver for Budget Car Rental until he fully retired.
Ken enjoyed travel and fishing. He was also a keen photographer especially on his trips to the Rockies, where he loved to take family who visited him over the years.
Ken is survived by family and friends in the UK which he visited on many occasions throughout his life. He will be very sadly missed by us all, and is remembered in Canada, as well as London and Eastbourne in the UK.