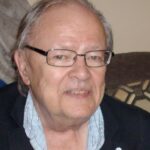 On Sunday, January 30, 2022, Ken passed away after a brief but fierce battle with cancer.
Ken is mourned by his partner of 33 years, Isabelle Vouvé, his brother and sister-in-law, Ron and Tan McAra, his nephews James (Michelle) and Gregor, his great-niece Kaitlyn and great-nephew Brendan, extended family and friends, young and old.
Ken is being remembered by so many for his sense of humour, laugh, wit, great storytelling, wisdom, mentorship, and intelligence, along with his generosity, kindness, and a belief in his young friends. He was a faithful friend and had an impact on individuals and family over many years, including those from his long career in the Junior Chamber/Jaycees.
Ken loved books and music, but mostly he loved and supported those whose lives he touched. He will be sadly missed by all who knew him.
As Ken wished, cremation will take place and a celebration of life will be held at a later date.