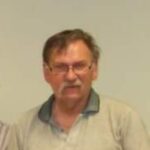 Lawrence James Ostrom
October 24, 1950 – April 2, 2022
With heavy hearts we announce the sudden passing of our brother and Gentle Giant, Larry Ostrom at the age of 71 years.
Larry was a caring gentle man who was always willing to lend a helping hand. Larry was the family caregiver, taking care of our parents in their later years, to the detriment of his long haul trucking career. After Mom passed it was Larry inviting the siblings to spend the holidays with him and Pops.
After Pops passed, Larry enjoyed spending time with our brother Chuck and sister-in-law Evelyn on their many adventures. He also spent immense time spoiling his constant companion, Benji.
Larry was predeceased by his Mother Peggy, Step- father Red, brother Melvin and brother-in-law Tom.
Left to celebrate Larry's life are his siblings, Ed (Dorothy), Chuck ( Evelyn), Phillip (Heather), Debbie (Jerry), Shelly, and Roni. His much loved nieces and nephews, great nieces and nephews, great great nieces and nephews. Life long friend (and new caregiver of his fur baby, Benji) Shauna and Benji.
A celebration of Larry's life will be held at a later date.