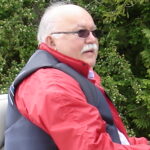 Leo Romeo Fontaine
Feb. 4, 1944 – Feb.6, 2021
With great memories and sad hearts our family announce the passing of Leo Fontaine at the age of 77 after an aggressive cancer that began in his lungs had within months claimed his body as well. He passed away at home with family by his side.
Leo was born in Spiritwood, Saskatchewan to Caroline and Joe Fontaine and spent his teen years with his family in Smiley, Saskatchewan where he made life long friends and began working in the oil industry. From the work over rigs he moved to Red Deer where he began working for Otis Pressure Control. He and Mary-Ann married in 1964 and after a stint in High Level, he accepted a transfer with his family to Great Yarmouth, England and began an overseas career in bottom hole safety and pressure that lasted for the next 35 years. His work took him to Norway, Denmark and other areas in Europe, Singapore, Indonesia, Malaysia, Brunei, Bangkok, Africa and Australia. When he retired from Stuart Petroleum in Adelaide, Australia, he and Mary-Ann moved back to Canada.
They spent winters in Edmonton; Spring to Fall were spent in their home at Harrison Hot Springs, BC. Friends and families gathered there and Leo was in his element. He enjoyed being surrounded by people he loved and had no urge to travel in retirement except to cruise the lake in his pontoon boat. He enjoyed being on the deck in the morning, coffee with the neighbors and the rhythm of the lake. We were so lucky to have a man like him in our lives. Leo was genuinely good, kind, generous, with a wicked sense of humor and a generosity of spirit. He didn't lecture or judge, led by example and loved with an open heart.
Leo was predeceased by his father and mother Joe and Caroline Fontaine, his brothers Lawrence and Andy Lajeunesse, his brother Marcel and nephew Troy Fontaine, his brother-in-law Lloyd Tipman, sister-in-law Fran Stewart and mother-in-law Frances Tipman.
Left to mourn his passing: his wife of 57 years Mary-Ann, two sons Tom and Jody (Michele), and daughter Nicole. Justin Stewart. Grandchildren and extended family, also grand. Logan and Quinn. Dakota (Prahb), Dave, Jackalynne. Devan, Megan. Genis (Luke, Poppy), Theresa, John (deceased), Liz (Craig, Avah, Owen), Maria. Kyla, Zachary, Jordan (Patricia).
Sadly missing him – sisters Geri Holmes and Lucille and Ralph Boudreaux, Emil and Donna Lajeunesse, Gerry Lajeunesse, and Sister-in-Law June Fontaine. In-laws Mike and Marie Tipman, Ken and Lois Erickson, Kathy and Lyle Johnson. There are a wealth of nieces and nephews and grand nieces and nephews – a host of friends and their families that will remember him with a smile.
Special thanks to the Palliative Home Care NW group who made it possible for us to keep Leo at home and to Doctor Ryan Akroyd whose guidance and compassion were a source of comfort and support.
Leo's ashes will be interred in Red Deer when the family can get together again.
Donations in Leo's name would be welcome at Stars Air Ambulance, the MS Society of Canada or a charity of your choice.