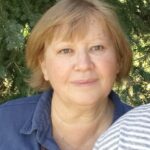 Lioudmila (nee Vasilenko) Rogaeva was born on June 16 1955, and passed away on April 11, 2022, at 8:30 PM in her home with all her children and husband by her side. She was 2 months shy of her 67th birthday.
She lived a full life, and leaves behind a sister in Ukraine; her
husband, Rafik (1955); two sons, Victor (1978), and Yuri (1985) & his soon to be wife, Amy Wong (1990).
Lioudmila is the beloved Captain of the Rogaev family, having lead her family from the persecution of the Soviet Union, risking everything to get them to Canada, where all of our dreams came true. Rafik is ready for his twilight retirement, Victor is on his way to a blessed future, while Yuri became a professor and wrote a few books in many languages. All of this because of the bravery of one amazing woman.
Lioudmila loved her Lord and Saviour Jesus Christ, having memorized the Lord's Prayer as a child. Over time her Christian faith would mature, and she accepted Christ's words: "My sheep hear my voice, I know them, and they follow me. I give them eternal life, and they will never die."
Mama Mila leaves a wonderful testimony of a life well lived, all who know her deeply love and cherish her time on earth, she lives on in our hearts, memories, and at peace in
heaven. Her Memorial service was conducted on Easter Sunday 2022 at International Bible Baptist Church of Edmonton, AB, with Yuri to officiate and preach this blessed
service. Please click here to listen to the Memorial Service.