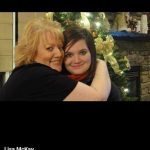 It is with hearts full of sorrow that we announce the passing of our dear sister, Lisa Croft (McKay)at her home in Edmonton AB on September 25,2020 at the age of 55.Gone to soon daughter of the late Maxwell McKay and Patricia McKay. Sister of JoAnne (Reade), Perry(Mary) Kathy(Shawn). Much loved Auntie of Greg(Gigi) the late (Justin Trawick)
Nicole Trawick , Avery & Amy McKay .Lisa was close to her caregiving friends Connie, Lorraine ,
Dorothy Lori & her 2 fur babies Louis & Leo . Lisa lived in Alberta 37 Years but her heart was always longing for Norther Ontario ,especially Basswood Lake where summers were spent at her Grandparents camp because basswood was so special to Lisa the family hopes to have a celebration of life in the summer of 2021.Donations can be made to the MS Society.
Love you Lisa you will be dearly missed by us all forever in our hearts.