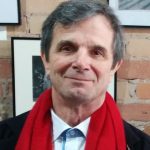 Lorne Sviatoslav Toumine
March 27, 1945 – Dec 27, 2020
Lorne Toumine passed away from cancer in the comfort of his home surrounded by his loving family.
Lorne was born in Ottawa, where he attended Ottawa Technical High School and later received his BA (Art History) from Carleton University. He was a dancer by profession and performed with several companies over his career including The Ottawa Ballet, Les Feux-Follets, the National Ballet of Portugal, Les Ballet Jazz de Montréal, and Les Grands Ballets Canadiens.
Lorne was a man with many skills and interests. He had a broad knowledge and appreciation of the arts. As a stained-glass artist, he created artworks inspired by his family and knowledge of art history. He was an avid reader that enjoyed both science fiction and history. After dancing he broadened his athletic interests. He earned a black belt in Taekwondo, became a skilled archer, liked sailing, and learned to windsurf and snowboard as a senior. He was an avid cyclist that tackled many mountain trails and when his knees gave out, he kept pedaling on his electric bike. Until recently, Lorne swam daily at the local pool.
Above all, Lorne adored his family. He was a dedicated husband and father. Preparing good food, and family dinners, was when Lorne was in his glory. His culinary skills were unmatched and he enjoyed experimenting with ingredients from all over the world, including from his own garden which he tended with devotion. Over the years, as a father, he volunteered on school trips, at summer camps, and was the biggest fan at all games, concerts and competitions. His most cherished memories were the countless family camping, skiing, and cycling trips.
Lorne will be lovingly remembered by his wife and partner of 42 years, Olesia (Cyncar); his son Daniel (Ally McIntyre) and daughter Ana. He will also be dearly missed by his close family of in-laws: mama Nadia Cyncar; brother Marco Cyncar; sister Markiana (Gerald) Hryschuk; nephew Artym Hryschuk; niece Areta Hryschuk (Steve Rozhdestvensky); their children Ari and Raphi; and aunt Marika Tatchyn; cousins: Marilee Williams, Todd Williams, Melissa (Jeff) Stolzman of Ottawa, and dear friends both near and afar.
Lorne was predeceased by his parents: Nesta (Williams) and Slava Toumine; and brother Peter.
The family wishes to express appreciation and gratitude for the outpouring of support and many kindnesses received from his medical team, family and friends.
A celebration of life will be planned for Lorne Toumine at a future date.