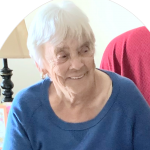 Lorraine was born on July 9, 1939 in Mont Carmel, Prince Edward Island. She was the 4th youngest among her 9 siblings. She always said she had been born in a barn, where they happened to live at the time. As the story went, it had used to be a barn. Lorraine passed peacefully at the age of 81 years on January 15th at the U of A Hospital in Edmonton.
At the age of 12 Lorraine's mother fell ill and Lorraine stepped in and took on a parenting role, assuming the duties and responsibility of caring for her 3 younger siblings. She continued with this role for 4 years until her mother was well again and returned home. It was not long after this that she met and eventually married Doug Goodheart. Over the next 12 years they welcomed 3 beautiful daughters into the world – Judy, Tracy and Tammy. The family moved around a bit before settling in Edmonton where they ended up managing townhomes together for 11 years.
Lorraine was a great story teller. She loved telling her grandsons and great grandson stories of her youth growing up in P.E.I. Whether fictional or not, it really didn't matter, her stories mesmerized them. They would sit with her and listen as long as the story lasted, always wanting another and another. Lorraine's life was a blessing to so many. Her generous and infectious spirit drew people to her. Her door was always open, she would welcome you in with a smile, chit chat and a coffee. Good times.
Lorraine is survived by her sisters Ethelene (Ed) Wyatt, Shirley (Fred) Arsenault, brothers Will Gallant and Norm (Francine) Gallant. Her devoted and loving family, daughters, Judy Goodheart along with her grandsons Ryan (Amber) and Jason, great grandson Kaleb, and great granddaughter Jessalyn, Tracy (Wayne) Goodheart, and Tammy Goodheart. As well as their furry companion Oreo, who stuck by Lorraine's side.
Lorraine will be fondly remembered and missed forever, but she will live on in the hearts of all those whose lives she touched.