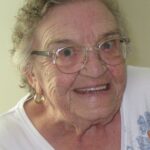 With heartfelt sorrow, we announce the death on Monday, 14 March 2022, of Margaret Kirker Kuefler—widow, mother, grandmother, and great-grandmother. She was predeceased by her parents, one brother, her husband, Norbert (Nik) Joseph Kuefler (at age 81), two stepsons and one step-granddaughter.
Margaret was survived by daughter Deborah Lawson and sons William Lawson and Donald Lawson, by step-sons Duane Kuefler (Tracy), although Duane has since passed away, and step-son Anthony Kuefler, and by step-daughter Debra Stenger (Pierre Bellini), as well as by numerous grandchildren and great-grandchildren.
Margaret was born in 1932 in Edmonton, Alberta, of Scottish immigrant parents, John Hogg and Alice Kirker Hogg (née Griffin). Margaret married George Henry Lawson of South Rawdon, Hants County, Nova Scotia in June 1952 and they had three children together before divorcing in 1963. In 1964 she met Norbert "Nik" Kuefler and his family. Margaret and Nik married in 1984 and were true soulmates until Nik's death in 2006. At first the family lived in Beverley district in Edmonton. In 1970 they bought a 40-acre property near the town of New Sarepta, where they lived for the next 33 years. The acreage was affectionately called "the stump ranch." In 2003, due to declining health, Margaret and Nik moved back to Edmonton.
Margaret was widely known as a wonderful downhome cook. Her Christmas feasts, in particular, were legendary. At times, in addition to keeping the home fires burning, she worked as a waitress or cook in various diners or hotels and at the Belvedere Golf and Country Club. She held a security position at Edmonton International Airports for a time, and also did occasional community catering, where she served as many as 200 people. For some years on the acreage she raised and sold chickens. She was also famous for having a couple of well-stocked freezers and a basement cold-storage room. She made sure they would never be stranded in the country without enough food!
She was formally diagnosed with dementia in January 2016, a couple of years after she had begun displaying symptoms. On the day of Margaret's passing, she slipped away quietly during her afternoon nap. Our deepest thanks go to the endlessly kind, patient and compassionate staff of Unit 10Y at the Edmonton General Continuing Care Centre, who looked after her so well in the last years of her life.
A Memorial Service, followed by a light lunch, will be held beginning at 2:00 pm on Saturday, June 25 at the Eastwood Community Hall, 11803 – 86 Street NW, Edmonton, Alberta. If you wish to RSVP, you may do so via email to: deborah@thewordcircus.com