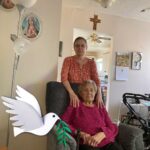 January 13, 1934 – February 14, 2023
It is with great sadness that we share the passing of our beloved mother Margaret White. Margaret was a mother, grandmother, great grandmother, sister, sister-in-law and aunt to a number of family members and relatives. It's been 2 years since she lost her husband Albert and 3 years since she lost her oldest daughter Linda. Margaret is
survived by her immediate family; daughter Barbara, daughter Laurie (Jim) and son Larry (Carrie).
In thinking back we recount her life as she was born into a hard working family in 1934 in Rossburn Manitoba. Her family later settled in the town of Neepawa. Her parents, Joseph who was a Carpenter by trade and Lena who was a homemaker had 6 children in all, however, one (Willy) was lost at an early age. Margaret had 4 siblings; Fred, Tina, Mary and Anne who she did her best to stay in contact with over the years. Today Margaret is survived by Mary and Anne who still reside in Manitoba.
In 1952 Margaret married her late husband Albert at the age 18. They settled in Neepawa Manitoba where Linda was born in 1954 followed by Barbara in 1958. The family moved to Virden and settled there for a few years where the twins Laurie and Larry were born in 1960. In 1968 the family migrated to Edmonton Alberta where they eventually purchased a 20 acre parcel of land south of the city and built the house they would live in for the rest of their lives (over 53 years).
Margaret was a hard worker raising 4 children in the country and was always the person that kept everyone grounded through any situation. She was forever the compromiser, the referee and the sounding board for all family members. She loved country music and was an avid fan of Jim Reeves, Johnny Cash and Charlie Pride. As a Grandmother she was very proud of her grandchildren and loved to see Stacey, Sarah, Matthew, Wesley and Jennifer on weekends or whenever she had the opportunity.
When the Great Grandchildren came along she started all over again doting over Jace, Jordan, Kendal, Kagan, Kenzie, Bennett and as much time as she could muster with Shayla who was recently born.
Although Margaret worked outside the home in her early years she drew satisfaction from being a homemaker for her family and she was very good at it. She was a great cook and made many traditional Ukrainian and western recipes and she was famous for her homemade bread, cinnamon buns and of course her butter tarts. She loved to garden every year and canned many of the fruits of her labour every fall like clockwork.
Once Albert retired in the late 90's they both enjoyed a little more leisure time together fishing at the local lakes and some short trips with their motor home, however, they mostly enjoyed their home and spending their time there together.
Margaret (Mom) will be missed tremendously by her family members and always
remembered as a kind and gentle spirit that never had a cross word to say about anyone. One comment we heard continuously from nurses during her recent hospital stays was "she is such a sweet lady". The last few months had not been easy for her with her Doctors visits, hospital stays and declining health, however, we know that her pain is gone now and we are sure she is reunited with Albert and Linda who passed before her. We will always love her and ensure her spirit lives on in everything our family does.
As per Mom's wishes there will be no formal funeral. We will plan for an immediate
family gathering in the spring and lay her ashes alongside her late husband Albert's and daughter Linda.