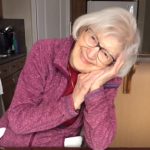 Petschl (Gagnon, Lofstrand, Douris,) , Marguerite (Peggy)
It is with exceptionally heavy hearts that we announce the sudden passing of our Mother, Grandmother, Great-Grandmother & Friend.
Born August 11, 1934, Marguerite had just celebrated her 86th birthday surrounded by friends and family, but left us very suddenly August 21, 2020. The loving and hard-working matriarch of her family, Marguerite was fondly known as "Peggy or Baba" by her grandchildren and great-grandchildren and newcomers alike. Known best for her bountiful kindness and unconditional love, Marguerite was known for her sassy fashion sense, will be missed by all. Marguerite was born to a family of 10 children in Quebec City, Quebec. She travelled out West in search of adventure. She was successful, and adventure she did find. She revelled in memories and told endless stories of working as a waitress in downtown Vancouver, as a labourer on the docks, and attending the Calgary Stampede as a beautiful young woman in the 1950s. Eventually, Marguerite settled down and married Bernard Lofstrand and had three children: Leonard (Wendy), Bruce (Jill) and Karen. Later, as the grandchildren began to arrive, the family continued to grow. Krista, Dana, Tyler, Mariah, Cheyenne, and Evelyn joined the happy bunch. We were all blessed to have Marguerite with us and loving us long enough for her to be a huge part of her great-grandchildrens' lives. Drekye, Olivia, Emma and Kenyon have grown and flourished in love due, in great part, to their Baba's patience and playfulness, her absolute unconditional love and always a desire to make sure everyone was fed the most delicious treats and comfort food. Marguerite was a long-time friend of the Sisters of Charity and employee of St. Vincent's Convent; where she was employed as Head Cook. Though loved by everyone who had the pleasure of meeting her, Marguerite found the strongest bond of friendship thousands of kilometers away. Her best friend, Ellie lives in Massachusetts and each adopted the other's families as their own. Marguerite will also be greatly missed by the family members remaining back East. Armand (Claudette), Leonard (Diane), Anita, Ginette, Francine. Marguerite survived all her husband's, Bernard Lofstrand, George Douris, and Rudolph "Lefty" Petschl. She will be missed by all!
Marguerite's family would gratefully receive memorial donations on her behalf to go to the Heart and Stroke foundation.