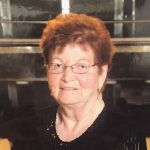 It is with great sadness and much love that we say good-bye to our beloved mother, grandmother and great-grandmother who passed away on August 8th at the age of 93.
Mary is survived by her children Denise (Barrie) Shalagan and Brian (Cheryl) Gauthier, six grandchildren, Bobbi (Jason) Maroney, Clay (Sherena) Shalagan, Hank (Kim) Shalagan, Ronni Gauthier (Eli Bowditch), Danielle Gauthier (Alex) and Ashley Gauthier (Britain) and eight great-grandchildren, Ty, Kaden and Charlee Maroney, Eli and Zane Shalagan , Theo Shalagan and Evianna and Rory Bowditch. Mary was predeceased by her husband Gaston of 41 years, parents George and Katherine Kohlman, her sister Tillie Hempel and is survived by her remaining siblings, Francis (Ollie) Kohlman, Rose Deck and Ron (Florentine) Kohlman.
A "Celebration of Life" will be held at a later date.
In lieu of flowers, donations can be made to St. Mark's Catholic Community of the Deaf or to the Edmonton Association for the Deaf Seniors Social Club.