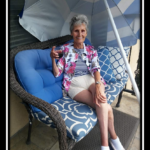 Marjorie Parkinson December 27 1930 to October 20 2022
Marjorie passed peacefully in the Royal Alexandra Hospital, Edmonton, Alberta, Canada at the age of 91. She was dearly loved by her late husband Jack. Survived by her children Wendy and Rodney, granddaughter Amanda, great grandson AJ and nieces Mandy and Susan.
Marjorie was a dancer; she was passionate about animals and her gardening and remodeling projects. She was an amazing mum and Nana and was deeply loved by all who knew her.