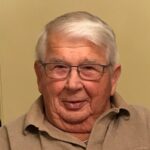 Marshall Orest Nahayowski
Sadly passed away at the age of 79 on November 12, 2021 after a long battle of illness. His life will be forever cherished by the love of his life, wife Doreen, daughters Wanda (Mike) Kuzyk and Ramona (Steve) Emblin, and granchildren: Dakota, Rhys, Lane (Kadyen), and Dillon, and brother Michael Horban. Predeceased by his parents, Michael Nahayowski and Helen Horban, brother Arthur Nahayowski and sister Lillian Sydora.
Marshall was a very hard worker and did everything to perfection. He always obtained any goal he challenged himself to. Marshall was a family man and loved to build things out of wood, camp and spend a lot of time with family and friends.
Marshall will live on in so many wonderful memories he has created with all of us.
There will be no public service.
In lieu of flowers, we ask you to make a donation in his memory to a charity of your choice.