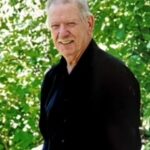 With heavy hearts, we announce the passing of Marvin Smith (78) on July 27 2022. Marvin passed away peacefully at home, the way he wanted to, after a long battle with cancer.
Marvin was born in Beechy, SK on April 20 1944 to Ed and Lilian Smith and had 5 brothers and 3 sisters. Marvin grew up working on farms and at the John Deere garage in Beechy, later at the Ford dealer in Swift Current. You could say he liked to 'raise a little hell' in those days.
Marvin married Anne (Loucks) in Beechy in 1966 and had 3 children. Later he went to BC to work in the forestry industry eventually living in Salmon Arm. Marvin met Debbie (Fullerton) and moved to Coaldale, AB where they married in 1984. He farmed there
until 2011 when Debbie suddenly passed away, in February of that year. Marvin then went to work in the oil and gas sector until he retired in 2015 from a long hard working life. Marvin met Mary Lou (McDougall) and moved to Sherwood Park, AB where they married in Dec. 2012. Sadly, Lou passed away from cancer in July 2021.
Marvin was 'as tough as nails' and a very skilled craftsman, from wood and metal to
machinery and mechanics. He enjoyed being out in the garage working on anything that needed tinkering. He was an avid fisherman and loved his time spent camping, as well as his trips to the east coast.
Marvin leaves behind his children and their families: Kirk (Mellisa, Tyler, Ashley, Avery, Sydni), Kevin (Tara, Makayla, Keithan), Tamara (Paul, Zach, Emily), and Carolyn (Nick, Avery), plus many more relatives, friends and neighbours who will miss him dearly.
"Love Without End, Amen" George Strait
Rest In Peace
There will be a celebration of life for Marv on Sept. 3 2022 at 122-21431 Twp.Rd 522
(Midway Esates) from 1-4 pm.