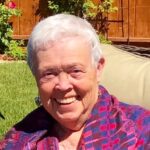 Mary Ann Birss
November 3rd, 1943 to October 24, 2021
On an early sunny autumn Sunday evening in October our beloved "Mad Mary" slipped away from us while listening to old time gospel and the laughter and chatter of husband Peter and daughter Karen.
Mary Ann Birss (née Bradshaw) was the beloved wife of Ronald Peter Birss, mother to Karen Birss (Donald Lee), Kevin (Melissa) Birss and Ronald Birss, and grandmother to Garrett, Declan, Sidney, Nathaniel, and Zachary. She was extremely proud of her three children and ensured all of them knew of and felt her love to the very last day.
Born in a tent in the foothills of the Rockies in Nordegg on November 3, 1943 she was very proud of her beginnings and her pioneering Alberta roots. She spent her formative years in the Rocky Mountain House area, Bonnyville and Sherwood Park AB., and proudly graduated from the Alberta Schools of Agriculture (now known as Lakeland College) in Vermilion. After graduation she worked in the records department for almost a decade at the Cross Cancer Institute until Karen was born. Her kids benefited from her decision to be a stay-at-home mom in Spruce Grove, where she and Peter raised their family. Mary Ann volunteered at countless school events, she was a Sunday School teacher and she spent countless hours volunteering at the United Church Thrift Shop where she made many friends and was a philanthropic example for her children.
She is pre-deceased by her parents Franklin G. Bradshaw (a retired Fish and Wildlife Officer) and Betty T. Graham (whom Mary Ann spoke of often and described as "the best mom who was always there for me").
Mary Ann started and ended almost every conversation with laughter. She is fondly remembered for her good humour, warm smile, and was often the reluctant peacekeeper amongst family and friends. As the youngest of five humour was likely a survival strategy that she kept intact throughout her 77 years. She is predeceased by siblings Franklin Bradshaw, Betty Irene "Renie" LaCount (née Bradshaw), William Bradshaw and brother-in-law Robert Birss. Surviving her is her sister Jeannette "Jan" Tillner (née Bradshaw) as well as her brother-in-law Dr. John Birss who has been a great source of advice and support to the family during her illness.
Her many nieces, nephews, grandnieces/nephews, cousins, and friends were so important to her and she made sure to see as many of them as she could once her diagnosis occurred in the summer of 2021. Niece Sue LaCount always felt like she had a second mother in Mary Ann.
Mary Ann took pictures of extended family with her to hospice along with her knitting, colouring books, word search puzzles, calendars, black licorice, jellybeans, tea, Keurig cups and ghetto blaster. She wasn't going to her final home without family, candy, caffeine, and music! A special thanks to all those who travelled great distances from all over the province to see mom before she passed (with niece Deb Gibson travelling from Ontario to say good-bye). Thank you too to niece Kathy for bringing mom's sister Jan to visit her when they were both on the same floor at the U. of A. hospital, which turned out to be the final reunion for the two sisters. To the many kind neighbours and friends who visited her, checked-in with Peter and offered constant support, the family sends their gratitude. Mary Ann felt your impact and spoke of your actions often in her final few months.
We would be remiss if we did not thank the outstanding care received from the Roozin Family (a.k.a. Pilgrim's) Hospice Centre. Not one volunteer, aide, nurse, doctor, or manager treated mom as anything but close family. In the two short weeks she lived there they took the time to know her so thoroughly that during the honour guard and service they provided as she left us they were able to share personal anecdotes about her, admissions of indulging her in a final rum and coke (which she would have loved) and pictures with her when they had her with them in the nurses' station at night when she grew too restless for bed. She was adored. Her cousin (Minister Phyllis Greenslade with help from husband Stan) sang a favourite hymn and said a prayer for Mary Ann with family around her bedside less than an hour before she passed, reflecting on how well her life was lived.
Her favourite hymn (Whispering Hope) captures the mixed sense of loss and longing that many of us feel with Mary Ann's passing:
Then when the night is upon us
Why should the heart sink away?
When the dark midnight is over
Watch for the breaking of day.
Rest easy mamma.
A private service will be held at a future date once family are able to gather given covid restrictions.
In lieu of flowers donations can be made to either Pilgrim's Hospice Centre Edmonton or Dayspring Presbyterian Church.