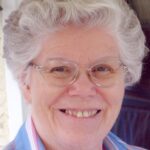 Mary Jean Freebury passed away on June 15, 2022, in the
presence of her loving family. She was born on January 26, 1931, in Grande Prairie, Alberta to Dr. Murray and Jean Carlisle. She is survived by her loving husband Jack Freebury, her children Jean, John and Lynn, and two grandchildren Vivienne and Juniper.
Mary Jean will be remembered for her many contributions throughout her life. She
attended the Royal Conservatory of Music for a year in 1951 before completing her studies in Education at the University of Alberta in 1953. She devoted much of her life to educating, caring for and inspiring children and youth. One of those youth, now grown up, shared that "she had a joyous loving spirit, filled with energy and creativity that she shared with so many." Her vibrant stories of growing up in Grande Prairie were
particularly loved by her family and friends.
Mary Jean worked for 16 years with Initiatives of Change in Los Angeles, New York, Tokyo, and Mackinac Island, Michigan. During her 8 years at Mackinac Island she
established a 4H club for girls. She became a mentor to her 4H girls establishing friendships and connections that lasted a lifetime.
In 1966 Mary Jean married Jack Freebury, who she grew up with in Grande Prairie. In 1969 they settled in Edmonton, where she became a devoted mother of 3 children. She worked as a substitute teacher and served as the costume director for the Alberta Ballet School. Her home was a place of hospitality and relationship building where people felt loved and cared for. Mary Jean and her husband Jack were committed to inclusion and human rights. Together they volunteered for the National Day of Healing & Reconciliation events held in Edmonton.
She was a sister, wife, mother, mentor, teacher, seamstress, friend, and dearly loved by many.