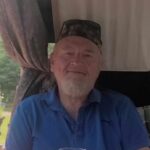 It is with deep sadness that we announce the passing of Michel Dube at age 65, on October 12, 2023.
Michel was born on October 29, 1957 at exactly 4:20 at New-Liskeard, Ontario.
He is survived by his wife Guylaine; his three sons Jeremie, Etienne, and Joel; his
daughter-in-law Melissa; his grandkids Eden, Antone, Psymon, and Penny; his only
brother Marc; and sister and brother-in-law Mimi and Roger.
Michel was a most amazing man always willing to help anyone. He was an awesome
husband, great loving father and grand-father and best friend to many.
A celebration of life will be scheduled next summer. Further notice will be send through social media, or contact Guylaine, Jeremie, Etienne, or Joel.