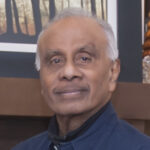 On December 21, 2021, Moe was mercifully released from further suffering with ALS at the age of 85. He passed away peacefully at home surrounded by family. He is survived by spouse Huguette, children Julie and Linda (Michael), grandchildren Andrew, Owen and Gavin, siblings Shan (Nalini) and Yaso (Sara), as well as nieces, nephews, cousins, and other extended family around the world.
He had a glorious life, as he often said in recent years- from growing up in Ceylon, to graduate studies at Purdue, to a job in Montreal where he met Huguette, to raising a family in Edmonton. He traveled the world for work and pleasure but was always an American at heart from an early age, with a pioneering and independent spirit.
He was a man of integrity and intelligence who made significant contributions throughout his career as a civil engineer with CN Rail and other consulting companies. He was looked up to and admired by many for his encyclopedic brain and for blazing is own trail- he also loved music and felt the songs "Born Free" and "My Way" in particular epitomized the story of his life.
Cremation has taken place and he wanted no funeral or service, but he will be missed and remembered in the hearts of all those who loved him and whose lives he touched. We invite anyone who would like to share a memory of Moe (a.k.a. Moses Malone) to post it here.