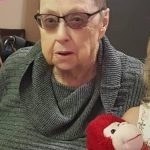 MURIEL MASON (STILES)
July 9, 1926 – February 7, 2021
It is with profound sadness that we say goodbye to our beloved sister, mother, grandmother and great grandmother at the age of 94, following a short battle with COVID.
Mourning her loss are her sister Dorothy Keosky and her sister-in-law Bernadette Stiles.
She will be deeply missed by daughters Sharon Sagert (Dave), Dorothy Ratke (Rudi) and son Leslie Mason.
Muriel's loving grandchildren are Deannine Conway (David), Aimee Mason, Craig Sagert (Michèle), Rory Ratke (Carol), Christina Dewhirst (Daniel), Brandy Payeur (Scott) & Neil Sagert (Michelle).
Great grandchildren also feeling her loss are Alexander & Nicholas Sagert; CJ (Carter Joseph), Cayden, & Cole Payeur; Taylor, Brady & Jacob Mason; Grace & Sophia Conway; Zachary & Annabelle Dewhirst; Elliana & Karrington Sagert and Trinity & Aurora Albrecht.
Muriel was predeceased by her parents, 4 brothers, 2 sisters and her daughter Carol Shields.
She will be lovingly remembered for her love of her children, grandchildren and great grandchildren. In her younger days she was a fan of the Edmonton Oil Kings and the Montreal Canadians. Muriel received great enjoyment from the animals she had and listening to her classical music. She also loved cooking and reading. One of the most wonderful memories of her life, that she shared often, was a trip she took to England where she was able to tour many of the places she had read about and visit members of her mother's family.
Muriel will also be remembered as a woman who believed in equality for all people, and she was always very confident in speaking her mind.
We wish to extend our gratitude to Dr. Hasinoff and the staff of Jubilee Lodge for their compassionate, patient centered care. In lieu of other tributes we ask that donations be made to the Jubilee Lodge in appreciation of their care of Muriel and the other residents, or to a charity of your choice.
Cremation has taken place and a celebration of Muriel's life will be planned at a later date.