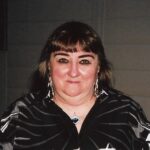 Nancy Wittur (nee Sachko ) 78, of Edmonton, passed away suddenly on June 13, 2022. She was born to Yrena and Stefan Sachko in Lac La Biche, Alberta on August 17th of 1943.
Nancy was predeceased by her parents and her siblings, Olga and Steve. She is survived by her siblings William, Irene and Meri; nieces and nephews; three children; Louella, Kevin and Jay; and six grand children: Trish, Jennifer, Susan, Holly, Cianna and Karlos.
Nancy enjoyed working as a waitress in her youth, a homemaker and was happy in the orchard picking fruit while she lived in the Okanagan.
A celebration of life will be held for her at a later date. For further information please call Jay at 604 809 1410.