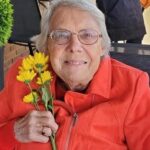 Natalie Ungstad (nee Yaremko)
1937-2022
It is with heavy hearts that we announce the sudden passing of our beloved mom, Natalie Ungstad on Jan 11, 2022. Natalie will be deeply missed by her loving family and dear friends. Sons Darrell, Colin (Susan) and Doug (Corri) Grandchildren Kristen, Kelsey, Natalia, Brandon, Dylan, Ryan and Shayla. Brothers David (Louise), Cy (Laurie) and Glen (Marilyn) Yaremko.
She was predeceased by her husband Erland Ungstad and her parents Metro and Mary Yaremko.
After graduating from Leduc High School she worked at the Jasper Ave Branch of CIBC until her marriage to Erland. After Erlands passing, she went on to work at Kensington Day Care for a number of years, where she proudly cared for the children as if they were her own.
Natalie was a caring, generous person, who dedicated her life to helping others. She took great pride in her grandchildren and was always concerned with everyone's well being. She will be sadly missed by all who knew her.
A Celebration of life will be held at a later date. In lieu of flowers, please make donations to the charity of ones choice.