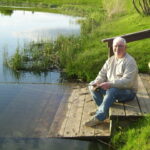 It is with great sadness that we announce the passing of our dad Nestor Michael Shmyr on Monday, April 18th in Wainwright, Alberta.
He passed peacefully with family by his side. Dad was born in Birtle, Manitoba in 1947, to Michael and Nellie Shmyr. He grew up on the family farm in the RM of Birtle. Upon the retirement of his parents, Dad bought the section of land with the home quarter and there started a family of his own. Seeking better employment opportunities, Dad moved to Alberta in 1988. He found work as an equipment operator in the gravel and aggregate industry. Dad could operate anything he got behind the wheel of, but the front-end loader was his favourite.  In 1990, he met the love of his life Mary May Smith and began calling Wainwright home.
When not working, Dad could be found on the banks of a river, with fishing rod in hand. His favorite spot was the Birdtail River, with Mervin Presniak, Donald Stadnyk, and anyone else willing to go.
He retired in 2017 and enjoyed spending time fishing, going for coffee, backroad cruising, working in his flowerbeds and working in his shop. Dad was the kind of person who could make friends anywhere and with anyone. Above all he loved being a Gido.
He will be remembered by his partner Mary May Smith, sons Aaron (Stacey) Shmyr and Jason Shmyr; stepchildren, Diane (Murray) Alcock, Brian (Connie) Kay, Barbara (Mike) Jacobson, and Debra (Vance) Montgomery; grandchildren, Morgan, Taylor, Sean, Keyarra, Amanda, Hannah, Sarah, Mikey, Lily, and Nellie; sisters, Jeanette (Graham) Clarkson and Josie Richardson; life-long-friend, Mervin Presniak; as well as a large extended family. Nestor was predeceased by his mother Nellie; father Michael; brothers Edward, Leonard, and twin brothers Ronnie and Joseph.
He will be missed tremendously, and we will all remember "a loonie for the first fish".
A Celebration of Life will take place at a later date. It will consist of family, friends, stories & fishing.