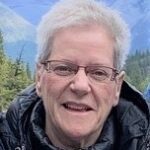 MacDonald, Nuala
Nuala MacDonald (nee Bell) of Beaumont, Alberta, passed away June 2, 2022 at the age of 63 years. She fought a courageous cancer battle with dignity, determination, and kindness toward those around her. She maintained her amazing sense of humor throughout and her family and friends have been touched with her ability to always think of others to the very end. Nuala leaves her loving sons Steven (Leah) and Blake, whom she adored, as they were always the light of her life. She is now free to join her beloved husband Lee, who passed away in March 2022, her best friend and husband of 40 years. She was predeceased by her loving parents, mother Sheila Bell and father Jack Bell, both originally from Ardee, Co Louth, Ireland.
Besides her 2 sons, Nuala leaves behind a loving family who adored her and valued her in so many ways: Tony (Diane), Jacquie, Julie (Seamus), Mike (Maria), John, Sheila, and Peter (Diane). Nuala also has many nieces, nephews, grandnieces & grandnephews who will forever miss her as she always kept in touch in some way despite the distance. It is hard to imagine she will no longer be the patriarch who kept us all connected. We will honor her at every gathering and remember the many stories she shared with so much gusto – nobody enjoyed the recollections of the Bell family as much as Nuala – it was a staple whenever the family came together.
Nuala will be fondly remembered by her in-laws and the many friends she made over the years. There was never a person that met Nuala who was not instantly captivated by her genuineness, loyalty, kindness, honesty, and most of all her humor which was infectious – it was hard not to be happy in her presence. Nuala was gifted in that she was a genuinely kind caring person who enjoyed the simpler things in life and loved her family above all else. She left an indelible mark on those who knew her and we will be forever grateful for the time we spent together.
As per Nuala's wishes cremation has taken place and a private celebration of her life will be held by her family. Nuala loved flowers, and would appreciate that gesture, however her wish was that any expression of sympathy could be to help others, therefore donations to the Cross Cancer Clinic or a charity of one's choice would be greatly appreciated by the family.
Rest in peace Nuala – you will be remembered and forever missed.