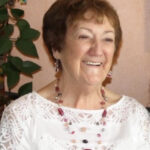 OBITUARY: PATRICIA MAY BELL (Patsy)
(nee Stringer)
It is with deep sorrow that we announce the passing of Patricia May Bell of Sherwood Park, Alberta, on October 3, 2022 at Rivercrest Hospice, Fort Saskatchewan Alberta.
She was born on April 21, 1934, to George and Edith Stringer, in Winnipeg, Manitoba. The family moved to Vancouver, where she lived until she married Donald Edward Bell in 1954.
She moved to Ardrossan, Alberta with Don, where she lived for 57 years. Together they raised their family, farmed with Don's family, and were actively involved in the community.
She had five children: Eileen, Alexander, Susan, Jean, and Douglas.
Education was always very important to her, so when all her children were in school, she went back herself and finished high school. She then graduated from Grant MacEwan College.
She worked for Imperial Oil as a library tech until she retired. Then she worked in the library at the Grey Nun's Hospital for a number of years. Finally, she retired again, even though they desperately wanted her to stay.
After her final retirement, she took courses at the University of Alberta that included Middle Eastern religion and culture, and Indigenous studies, because she wanted to better understand how life is for people with a variety of backgrounds and lived experiences.
She loved music, and was a member of the Sherard Musical Theatre in Sherwood Park for a number of years, performing at Sherwood Park's Festival Place and at the Fringe Festival. She and Don had season's tickets to the Edmonton Symphony, and in the last five years of her life, she never missed a performance of her grandson Sam with the Kokopelli Choir.
She loved to travel, curled most of her life, and loved the Edmonton Oilers passionately. She was also passionate about the province of Alberta, and was politically active right to the end of her life.
Patricia is survived by her children Eileen (Harold), Susan (Joe), Jean (Tony) and Doug (Charlene),; her grandchildren Jon, Jessica, Donald, Alexander, Nicholas, Mitchell, Sean, and Samuel; and her great grandchildren Rosie, Lucy, Sacha and Nico.
She was preceded in death by her parents, her siblings, her son Alexander, her great-grandchild Sera, and her husband, Don in 2010.
Funeral services will be October 15, 2022, 2 PM, at the Salisbury United Church, 2 Mission Street, Sherwood Park, Alberta, with Britt Aerhart officiating.
Please join us for light refreshments after the service. Interment will follow at 4 PM at the Cloverbar Cemetery, 2025 Yellowhead Trail, Edmonton.
Donations to to the Youth Emergency Shelter, Edmonton, in lieu of flowers.