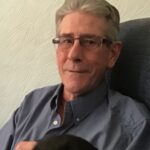 Paul Steven DeMeulenaere passed away on Tuesday May 11th, 2021 after a short battle with cancer. Paul is survived by his loving wife Patricia (Patsy) of 43 years and his three children Susan/DeeDee (Ryan), Paul/P.J. (Tanya) and Megan/ BooBoo. He was also gramps to five grandchildren Hailey, Blake, Jack, Cadence and Owen. Paul is also survived by his sister Pat DeMeulenaere (Darrell), several sisters and brothers in law and many nieces and nephews.
Paul was born February 21, 1952 in Edmonton where he was raised and spent his life. He worked for the city as an arborist for over 35 years. Paul was an avid fisherman, camper and gardener, a big lover of the outdoors and animals; especially dogs. These passions created some of the families favorite memories which have been passed down to the next generation. Paul was not a fan of heights and flying but the family managed to get him over his fears by moving away and getting him to visit. He travelled to Australia, Fiji, Indonesia, United Kingdom, Europe and to weddings in Mexico and Cuba.
We will all miss his pickles, his annual pot of stew for camping (even if he wasn't going), his laugh, sense of humor and his hugs.
The family would like to extend our appreciation to Dr. David Fields, the staff at the Royal Alexandra Hospital, The Cross Cancer Institute and Norwood Hospice.
Cremation has taken place. A celebration of life will be held at a later date. In lieu of flowers donations to www.albertacancer.ca/in-memory/ would be greatly appreciated.
"Where the ocean meets the sky I'll be sailin"