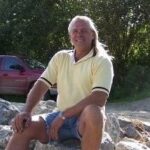 RANDOLPH BRODERICK PETERS (RANDY) – OF GALAHAD – died unexpectedly on December 30, 2021 at his residence in Galahad, AB. He was born September 6, 1956 in Morden, Manitoba, son of Henry Peters and Nettie (Dyck) Sept.
After high school in Portage LaPrarie, Randy went on to Red River College in Winnipeg and graduated as an Autobody Tech. Randy moved to Alberta with his cousin Rob in 1974, the rest of the Peters' family would follow in the coming years. He went on to achieve his Apprenticeship in Welding, 1 st Class in 1982, 'B' Pressure Welding Certification in 1986, and became registered as a 'B' Pressure Welder in British Colombia in 1991. He maintained dual provincial registration with various alloys and metals including 'Tig' Welding, where he would be known amongst colleagues by the nickname "Tigger" in a career that would span the better part of four decades.
Throughout his life Randy always was ready and willing to try anything new. He
experienced underwater welding and turned his passion for welding into a hobby; saving
aluminum cans and welding rods that he would use to make roses. Randy took his rose making on the road and would sell them on the road side markets all over Alberta, the B.C. interior and coast, New Zealand, and Jamaica to name a few. Jamaica would be the country that captured Randy's heart and he worked towards living out his retirement years there.
Randy greatly enjoyed sports like playing hockey, chess, and billiards. He competed in Karate as a Black Belt, winning trophies as a young adult. Randy was also an avid outdoor enthusiast who loved golfing, rappelling, and mountain climbing, and often would use these adventures to be one with nature again. For much of his career as a welder he would stay in the nearest campground in his outfitters tent. Even the local furry friends would have a friend in Randy, as he fed them peanuts out of the shell. He had a couple trained so well they would walk right up to him and ate out of hand in his lap.
Randy's love of art did not stop at making roses, he would discover a love of wood
working inspired by his father, Henry. Randy made chainsaw carvings out of tree stumps. He made numerous pieces of furniture and was certainly handy doing anything in the yard or on his sister's farm. Della and Don's farm would be a constant for him, a place that
always felt like home.
Randy met Leona Lowe in Alberta and married in 1976. They had two daughters
together: In 1977 came Shantelle Lee (Bruce), and Shanette Dawn in 1979. Randy and Leona divorced in 1986. Two more daughters then came: Ashley, in 1990, and Rhandi Cheyenne (Matt) in 1993.
Randy is survived by his parents; Henry Peters (Isabel) and Nettie; his
siblings Della (Don) Jess, Sam (Marie) Peters, Luke (Bev) Peters, and Laura (Al) Calkin. Randy is also survived by his grandchildren: from Shantelle, Samantha, Mason, and Brooklyn; from Shanette, Elisha and Robert; and from Rhandi Cheyenne, Rowen.
Randy is also survived by numerous nieces and nephews.
Throughout Randy's life he always supported the underdog. He would not hesitate to come to your defence and if you had a friend in Randy, you had a friend for life. Randy was passionate about The War Amps and donated every year, this was largely inspired by his father's career as an airplane mechanic in the forces.
In lieu of flowers, the family invites you to donate to The War Amps. A service will not be held, as was the wishes of the deceased, but rather a bon-fire farewell to our beloved Dad, Grandpa Tigger, brother and son. May you forever rest in peace.